Restless for travel and adventure, Sinbad sets sail again from Basra. But by ill chance he and his companions are cast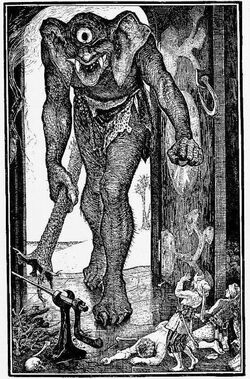 up on an island where they are captured by "a huge creature in the likeness of a man, black of colour, ... with eyes like coals of fire and eye-teeth like boar's tusks and a vast big gape like the mouth of a well. Moreover, he had long loose lips like camel's, hanging down upon his breast and ears like two Jarms falling over his shoulder-blades and the nails of his hands were like the claws of a lion". This monster begins eating the crew, beginning with the Master, who is the fattest. (Burton notes that the giant "is distinctly Polyphemus").
Sinbad hatches a plan to blind the giant with the red-hot iron spits with which the monster has been kebabing the ship's company, and so he and the remaining men escape. After further adventures (including a gigantic python from which Sinbad escapes thanks to his quick wits), he returns to Baghdad, wealthier than ever, where "I gave alms and largesse and clad the widow and the orphan, by way of thanksgiving for my happy return, and fell to feasting and making merry with my companions and intimates and forgot, while eating well and drinking well and dressing well, everything that had befallen me and all the perils and hardships I had suffered".
Parent Tale:
[
]